Mount Liamuiga was formerly named Mount Misery,  a well-deserved nickname, as anyone who has climbed it can attest. The renaming took place on the date of St. Kitts' independence, September 19, 1983. However, many older citizens still refer to it as Mount Misery. The name Liamuiga is derived from the Kalinago name for the island of St. Kitts, which means, "fertile land."
The mountain sides are covered in farmland and small villages up to the 1,500-foot (460 m) height, after which lush tropical rainforests drape the slopes until cloud forest takes over at 3,000 ft (900 m). Many tours and guided hikes are organized to the peak's summit and surrounding rainforests, usually starting from Belmont Estate in the village of St. Paul's. From the summit, the views are outstanding, including the entire island and the beautiful Caribbean Sea, as well as the neighboring islands of Saba, Statia, St. Barths, St. Martin, Antigua, and Nevis.
The volcano hike is an alluring adventure from the bottom of the hill to the very summit of the impressive Mount Liamuiga. On average the climb will take you 2.5 to 3 hours to the rim.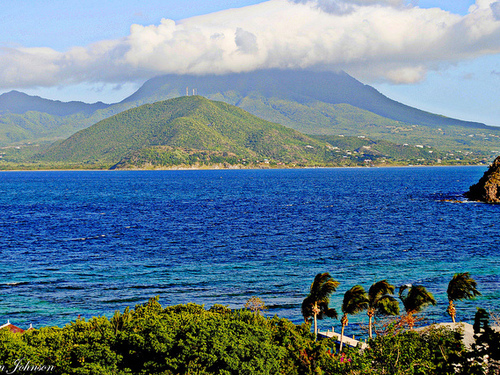 Enjoy this incredibly verdant, peaceful and stunning mountain. It is truly an un-touched gem that the average tourist has yet to find.
Follow our Blog for updates, and Visit us at:
Metro Caribbean Official Website
Metro Caribbean Instagram Page