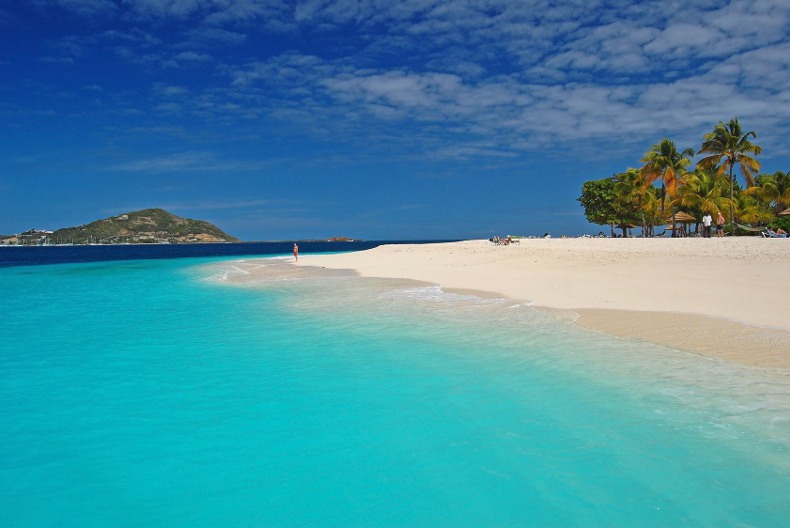 Everyone loves privacy and what better way than to have a quiet,peaceful and memorable Caribbean Escape at one of these "Top 10 Most Secretive Caribbean Islands"? Swim under a 40-foot waterfall in Dominica, scale Mount Pelée in Martinique, or experience private-island luxury in the Bahamas.
Extract from Islands.com and MetroCaribbean.
1.Antigua

Eli Fuller, owner of water-based tour company Adventure Antigua, has been sailing these waters since he was a kid. Sailing tours on Ocean Nomad include snorkeling at Cades Reef and turtle-spotting at Carlisle Bay. A sister sloop will be completed soon.
2.Dominica

Jungle Bay Lodge, a comfy Robinson Crusoe-esque treehouse on the Atlantic side of Dominica, offers escorted tours to the Emerald Pool on Fridays. Ask your guide for the inside scoop on filming Pirates of the Caribbean here.
3.Guadeloupe
The island group has powdered-sugar-soft beaches and varieties of seclusion — from Hotel le Bois Joli's beach to the island of Marie-Galante, with the pastoral privacy the Caribbean was known for before all the escapists arrived.
4.Providencia

It's a short flight on Satena from sister island San Andrés, but get in the castaway spirit on the fast ferry El Sensacion (call 57-312-567-2713). Providencia has no mega-resorts on its laid-back beaches, but Decameron has several affiliated guesthouses.
5.Grenada

St. George's is walkable, alone or with a tour operator. When you finish on land, go with Grenada Seafaris for a blast up the west coast. Tours run from the waterfront to Black Bay. Snorkeling stops include Molinere Bay, site of haunting underwater sculptures.
6.Martinique

This place, on the other hand, makes you earn it. Well, of course you can lounge around Villa St. Pierre sipping coffee and looking out at the gorgeous blue Caribbean, but if you want the 360-degree view, you have to walk a little. Take plenty of water and a camera.
7. Andros

Seriously? With water so blue it makes your teeth hurt, world-class fishing and diving, and sands from snow white to baby-bunny pink — why not Bahamas? And if you're coming, come all the way. A private-island retreat may not change your life, but it'll change your vacation.
8.Trinidad

No, this island isn't necessarily a secret. But beyond its beaches, the mix of East-Indian, African, Chinese, Dutch, Syrian, Spanish and English cultures is rather unsung, and a feast for the eyes, ears and taste buds, particularly in a well-established street-food tradition. Trinidad also boasts the Caribbean's largest Carnival celebration.
9.Saba
The island of Saba rises majestically from her clear azure waters, stretching her summit to caress the clouds… She is like no other Caribbean destination. Untouched by the quickening pace of the modern world, an island caught within a moment…. and the moment within which she's captured you ask? The old Caribbean; safe, friendly and charming with exquisite natural beauty both above and below her waterline.
10.St.Vincent
St. Vincent & The Grenadines. One destination, 32 gorgeous Caribbean islands.
From St. Vincent's lush tropical rainforest full of eco-adventures, to the idyllic beaches, coral reefs and turquoise lagoons of The Grenadines, SVG is a tropical paradise for yachting, scuba diving, enjoying nature, and relaxing in luxurious hideaways.
Follow our Blog for updates, and Visit us at:
Metro Caribbean Official Website
Metro Caribbean Instagram Page